Balloon twister and face paint artist from Encino, CA Making all of L.A. parties fun.
When you hire Joe's Party Animals for your party, You get Joe himself, not an employee or contracted worker.

---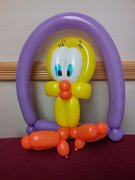 Making balloon art for kids is what Joe does best. Take a look at his instagram page, and you will see that he is not your usual balloon guy. Joe creates the most amazing creations, such as lovable Minions, your favorite princess, a wide variety of playful animals, seasonal pieces (such as turkeys and christmas trees!) and even the NASA space shuttle. He has been making balloon creations for years, and they only get more exciting. Adding a professional balloon artist is an excellent way to make your party pop.

---
---
Spin Art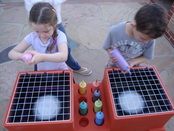 Kids and adults alike can never say no to the spin art machine. Joe comes with all the supplies and guides your guests through the exciting experience of creating their own framed art piece or flying disk toy with wonderful, bright colors. Your guests will remember this activity and party gift for years to come. A great activity to add to balloon twisting.
---
---
Balloon Decorations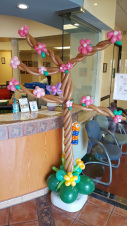 My Little Pony center pieces, Minion columns, elegant flowers for a fun fiesta. Joe's Party Animals can provide them for you. The same great creations that Joe makes for parties he can make as decorations big and small. Want to do a just a centerpiece for the present table or a small table arch for the Cake or Candy Bar. It's a great way to make your party pop!
---
---
Balloon Gifts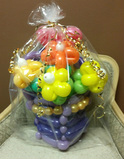 Birthday Gifts, Mothers day, Fathers day, Graduation and all types of special occasions are perfect to give great balloon bouquets. Each is a custom creation for your special someone.

---
---

Balloon candy cups are a great way to decorate your party. You can choose your favorite topping creations and have them delivered, packed with candy and ready to go for your party. They are also quite memorable gifts! Candy cups are awesome for office parties and other social events. Party guests and co-workers will always remember the person who gave them a Penguin Candy Cup!
---
---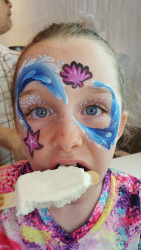 Face-painting is something everyone enjoys. Adding a sparkly crown to your princess' face or making your superhero into a favorite ninja turtle will really liven up the party and make for awesome photos. Joe only uses professional grade face-paints approved by the FDA.
---
---
Glitter Tattoos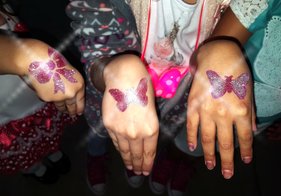 Glitter tattoos are a great addition to any party. What is great about glitter tattoos is that they are water proof and last for days. How excited will all the guests be to show off their glitter tattoos when back at school or Summer camp. Boys and girls alike are exited by this party treat.
---
---
About Joe - Balloon Artist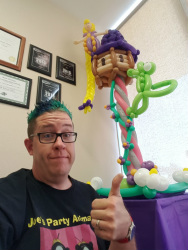 Always building better balloons.
Joe has always been an artist at heart. Joe spent his childhood relentlessly drawing and painting. As a young man, Joe had a thriving art studio at the art collective "The Hive" in Downtown Los Angeles as well as a day job as Art Director for high end magazines. As a father, Joe picked up a toy balloon animal kit to make balloon animals for his daughter and discovered his singular talent for balloon inventions. Joe's creative mind and balloon abilities grew into a wide range of unique and magical balloon art for all ages. Joe currently twists his beautiful balloon creations at four Southern California Dental offices, doing his part to put sparkling smiles on all the patients. Joe is available to delight you and your guests at private and corporate parties. Check out some super cool balloon designs at his Instagram page.

---
---